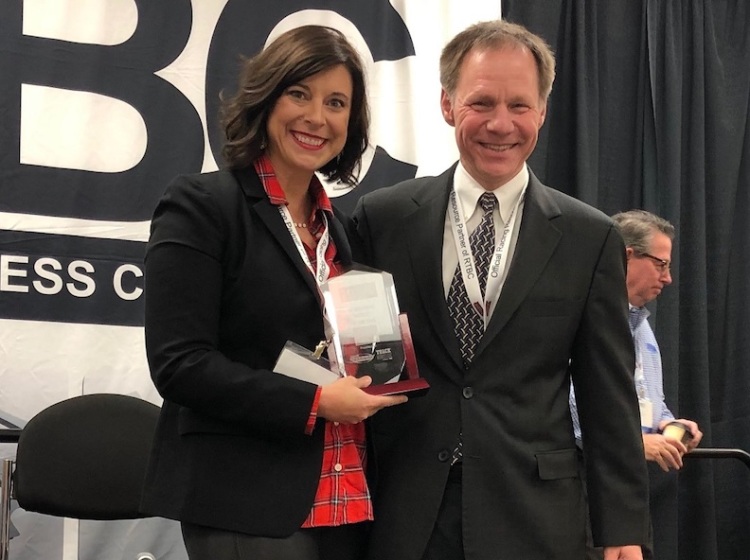 National Speedway Directory Names Knoxville Raceway Outstanding Facility Of The Year
Knoxville Raceway, home of the Knoxville Nationals, was named the Outstanding Facility of the Year by the National Speedway Directory and Track Guide.
The plaque was presented at the Performance Racing Industry Trade Show. Kendra Jacobs, marketing director for Knoxville Raceway. accepted the award from Tim Frost, publlisher of the National Speedway Directory and Track Guide and organizer of the Race Track Business Conference.
"The Outstanding Facility of the Year award is quite an honor for all of us at Knoxville Raceway. To be the first dirt track to win the award is even more so," said Jacobs. "It truly takes a great team of people to make a race season and an event like the Knoxville Nationals come together. We always say that we have the best partners, the best fans, the best drivers and teams in the world, and we firmly believe that. This award is something that we share with all of them."
"Knoxville Raceway continues to lead the pack of short tracks. The exciting racing and legendary community hospitality attracts race fans from around the world each August for the Knoxville Nationals. We are pleased to recognize their efforts" said Frost.
The previous award winners were the Indianapolis Motor Speedway (2013), NCM Motorsports Park (2014), Daytona International Speedway (2015), Charlotte Motor Speedway (2016), and Gateway Motorsports Park (2017).
Knoxville Raceway is a semi-banked ½-mile dirt oval located at the Marion County Fairgrounds in Knoxville, Iowa. It is known as the "Sprint Car Capital of the World," with races held on Saturday nights from April through September each year. Each August, the Raceway holds the biggest sprint car event in the United States, the Knoxville Nationals.
The annual Race Track Business Conference (www.racetrackbusinessconference.com) hosted by the National Speedway Directory provides a platform for industry leaders to collaborate, analyze, and conceptualize around the business of motorsports. Shared insights from all forms of racing create dialogue and interaction in a unique intellectual environment.