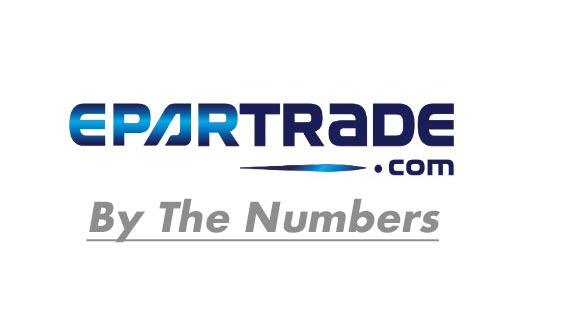 So You Can Join Us In Our Remarkable Adventure, EPARTRADE Shares Its Progress By The Numbers
It all started this past summer as we took the first, big step toward a new and better way for the racing industry to source motorsports products and services.

EPARTRADE is now off and running, featuring SmartSourcing, an online business community for the racing industry, and interactive technology for buyers and suppliers to talk to each other, 365 days per year, worldwide.
We want to share with you the progress of our adventure, so you can ride along with us on our journey. Here are the numbers to tell you exactly where we're at as of December 26, 2018.


June 5, 2018 — EPARTRADE was announced to the world.
July 2, 2018 — www.epartrade.com goes live.
As of December 26th, the EPARTRADE Digital Platform features:


8,558 Racing Businesses worldwide, classified as Buyers: Dealers, Engine Builders, Engineering, Fabricators, Machine Shops, Race Tracks, Tuners, etc.


5,120 Suppliers: Manufacturers, Distributors, Service Providers, WD's.


1,289 Professional Race Teams.


947 Featured Content (Products, Services, Videos, Tech Papers, Catalogs, News, etc.)
368 Upgrades from our Suppliers listed below:


ACL Distribution, Inc
ACP Motorsports
Action Sports Canopies
Advanced Composite Products / ACP
AEM Performance Electronics
Aeromotive Inc.
Alientech
ARE Dry Sump Systems
ARP Inc.
ASNU Corporation Europe LTD
ATL Racing Fuel Cells
Aurora Bearing Company
Autosport Bearings & Components
Barnes Systems Inc.
BBS of America, Inc.
Buffalo Turbine
Bullet Racing Cams
C & R Racing, Inc.
Calico Coatings
Chassisim
CL Brakes
COMP Cams
Competition Motorsport
Conforma S.R.L.
COOLSHIRT Systems
CP-Carrillo, Inc./Arias Pistons
Creative Racing Products
Crow Enterprizes
Dan Olson Racing Products
Dart Machinery
Davies Craig
Davis Technologies, LLC
Daytona Sensors
Dino Paoli S.R.L.
Dyers Top Rods
Dynojet Research
Eibach Springs
Emtron
Essex Parts Services, Inc.
Ferrea Racing Componets
Flow Ezy Filters, Inc
Fluidampr
Gandrud Parts Center
GET'M Garage
G-Force Racing Gear
GRP Connecting Rods
Gulf Racing Fuels
Hammond Roto Finish
HGT
HMS Motorsport
Hughes Performance
Hylomar
IMI Performance Products, Inc./HiTorque
ItalianRP
Jacquemin Tuning
JE Pistons
K1 RaceGear
K1 Technologies
Larsen
LP Tent
Made for You
McLaren Applied Technologies
Mega-line Racing Electronic
Melling Performance
Merin
Mike Follmer Specialties
Milltek Sports
Motovicity Distribution
MPI
Northstar Battery Company
Oerlikon Balzers
Oliver Racing Parts
Online Resources, Inc
OptimumG
Pankl Turbosystems
PE Racing
Pedders Suspension
Pennzoil
Performance Plus Global Logistics
Pitboxes.com
PFC Brakes
Pfitzner Performance Gearboxes
Pistal Racing
Plazmaman
Racemarc
Racequip
Racer Media & Marketing
Racetech USA, LTD
RacingJunk.com
RacingRivets.com
Randy's worldwide
Raybestos Powertrain
Reid Rocker Arms/Reid Machine
RidgeGate Tools & Technology, Inc.
RM Racing Lubricants, Inc.
Roadrunner Performance
Rottler Manufacturing
Sadev Transmissions, Inc.
SCE Gaskets
Scott Lewis Associates
Seals-it
Setrab USA
Smith Systems, Inc.
Speedflow
Spintric Technologies
SRI
St. Cross Electronics
Stand 21 Racewear
Steele Racing Products
Sunnen Products Company
Supertech Performance
Tech Line Coatings
Tecno 2
TEXYS Sensors
Totalsim US
Trailer Alarms LLC
Trend Performance
Turbosmart
Turn 14 Distribution
USA Standard Gear
Viper Performance
Weinle Motorsports
Who Works Sports Guides
Wiseco Piston, Inc.
WPC Treatment
Yukon Gear & Axle
Zeitronix
ZMAX Racing Oil
ZyCoat