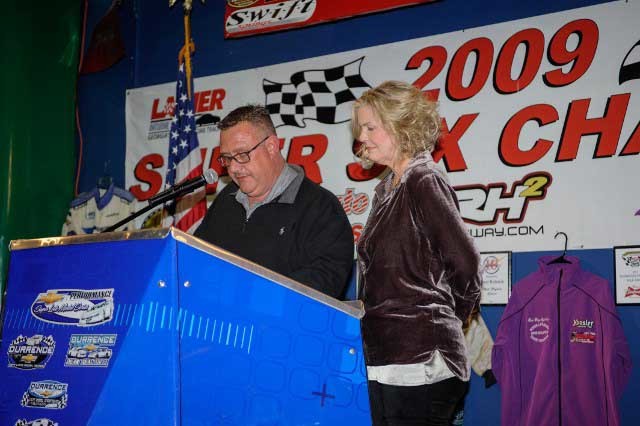 Crate Racin' USA (Durrence Layne Racing) Sold To Investment Group
Mike Vaughn, the CEO and Founder of Crate Racin' USA, aka Durrence Layne Racing, shocked a crowd of over 300 attendees at the Durrence Layne Racing Annual Awards Banquet at the Georgia Racing Hall of Fame. Vaughn called his wife Heather to the stage after the State of the Series Address and announced they have sold the series.
Vaughn said he and Heather, who is the CFO of the series, had sold the series to an investment group that wished to remain anonymous, but that everything would stay the same regarding series personnel and racing operations. Vaughn, who founded the series in February of 2005, said the time had come for him to make a change in his life.
In his announcement, Vaughn said the new owners will keep all six racing divisions and their rules in place, and the day-to-day operations of the series will be in the capable hands of the staff he has put together over the years.
"Fifteen years ago, we started something we knew nothing about, but here we are tonight," Vaughn said. "We have put a lot of blood, sweat, and tears into making this series what it is today. While working to try and make this series what it is today, Heather and I became parents of two beautiful girls.
"In working to keep this series growing, it has taken my time away from the family I love more than life itself," Vaughn continued. "For me to be the husband Heather deserves, and the father than Alice Kay and Eva need, the time has come to make a big change my life. Tonight, I am announcing that Heather and I have reached an agreement with a group of investors to sell them Crate Racin' USA."
"Adam Stewart, who Heather and I have put so much confidence in and has done a great job for us over the past few years, will continue as General Manager and Competition Director of Durrence Layne Racing," Vaughn said. "Roby Helm, a man that was instrumental in helping Heather and me build this series, will stay on as Administrative and Communications Director, as well as Series Announcer.
"Thomas McReynolds, the most feared man in the pit area, will continue to be the Technical Director," Vaughn said. "Mitchell Jenkins, a young man who brings in a new generation of new ideas to the series, continues as Social Media Director, Series Photographer, and Series Videographer."
Durrence Layne Racing consists of two National Touring Divisions: the Durrence Layne Chevrolet Dirt Late Model Series, and the Chevrolet Performance Super Late Model Series; and four Weekly Racing Series Divisions: The Durrence Layne Chevrolet Late Model Division, the Durrence Layne Performance Parts Street Stock Division, the Durrence Layne Chevrolet Late Model Sportsman Division, and the Durrence Layne Chevrolet Modified Sportsman Division.
The highlighted engine in each of the Durrence Layne Racing Divisions is one of three Chevrolet Performance Circle Track Engines that are sealed at the factory to prevent any expensive modifications. Vaughn started Crate Racin' USA in 2005 as the first series in the nation that exclusively used what is also known as a "crate" engine, a reflection of the low cost engine coming in a low cost container to the customer.
As a farewell unknown to Vaughn later in the evening, Vaughn was the recipient of the Chevrolet Performance Bob Cross Memorial Lifetime Achievement Award. Bob Cross was a General Motors Engineer that gave birth to the Chevrolet Performance Circle Track Engine Program, who lost his life in a highway accident several years ago.
"This award means a lot to me, not because of what I've done, but because it's named after Bob Cross," Vaughn said. "I knew Bob Cross, and I worked with Bob Cross in starting this series. I was a fan of Bob Cross because he developed three affordable and durable racing engines that just about everyone could afford. Bob Cross was a fan of our series because he was all about making racing accessible to the little guy."
Past recipients of the Chevrolet Performance Bob Cross Memorial Lifetime Achievement Award include multi-time Durrence Layne National Late Model and Chevy Super Series National Champion Ronnie Johnson (2010), Chevrolet Performance Special Projects Manager Bill Martens (2011), National Dirt Hall of Fame Inductee Jeff Purvis (2012), series official Roby Helm (2013), Hoosier Tire South Owner Charles Roberts (2014), dirt late model legend and racing promoter Johnny Stokes (2015), series title sponsor NeSmith Chevrolet (2016), and dirt late model legend and car builder Mike Boland (2017).
Further information regarding the future of Durrence Layne Racing, including the 2019 National Touring Schedules, will be announced in the coming days. The next event for the Durrence Layne Chevrolet Dirt Late Model Series Winter Shootout will be February 15-16 at Duck River Raceway Park in Lewisburg, TN.