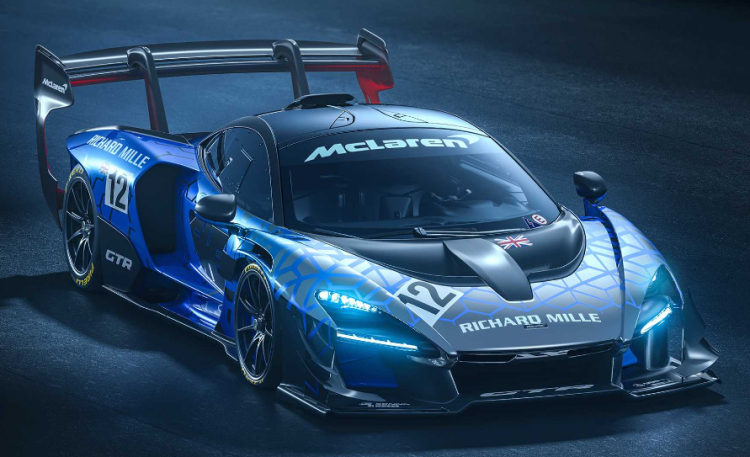 McLaren Unveils Senna GTR Track-Only Race Car
The 2020 McLaren Senna GTR is a track-only race car version of the Senna. The Senna GTR was unveiled at the Geneva Auto Show.
The McLaren Senna GTR has been created to deliver the fastest McLaren lap times outside Formula 1. The power to weight ratio comes in at 694PS per ton (that's the highest of any track focused McLaren). The McLaren Senna GTR delivers up to 1000kg of downforce.
It generates 825 PS (pferdestärke—metric horsepower) and 800Nm (Newton meters) of torque from its McLaren M840TR 4.0L twin-turbocharged V8 engine.
Built on an immensely strong and light carbon fiber tub, the McLaren Senna GTR's Monocage III-R is the race-focused apex of McLaren chassis design, according to the company. And, it's race-ready with FIA certified 6-point harness fixing points.
Because it is designed for track only use, the McLaren Senna GTR is free to be a 100% focused race vehicle. And that focus can be seen throughout the car's design, from the radically enlarged front splitter and dive planes to the rear diffuser and integrated rear wing endplates.
The GTR features an active rear wing with air brake and drag reduction system (DRS). Working in harmony with the front aero blades, it pivots automatically, either reducing drag at high speed or increasing downforce under braking. This is all about optimizing weight transfer, harnessing airflow, and then putting it to the best possible use.
The Anti-collision Radar System is straight out of high-end endurance racing, and a huge advantage on track. Because your peripheral vision is reduced by a race helmet, the system feeds you vital live information about the position and distance of other cars around you.
Price: $1.44 million.