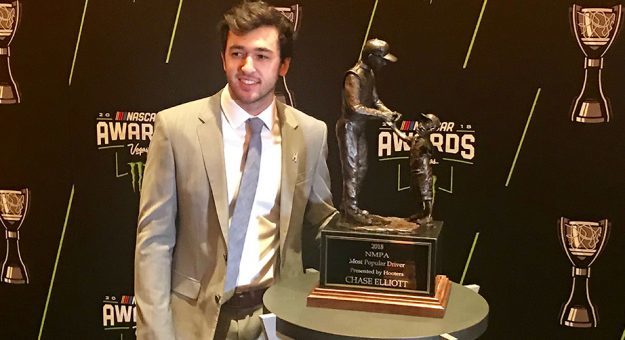 Chase Elliott Named 2018 Most Popular NASCAR Driver
Chase Elliott was named NASCAR's Most Popular Driver For 2018 by the National Motorsports Press Association during the NASCAR Champion's Week banquet in Las Vegas.
"When all your peers answer the interview as if you've already won, it kind of makes it odd," Elliott said with a smile. "… It's a great honor to have."
The award has been in the families of the Elliotts and Earnhardts for 33 years in total, with the younger Elliott claiming his first title. As Dale Earnhardt Jr.—who won the award for 15 straight seasons before his retirement at the end of the season—announced Elliott as the winner, it was almost a passing of the torch.
From one beloved racing family back to another.
"So cool though that it's stayed between Elliott and Earnhardt for so long," Elliott said on stage after accepting the award.
"I am glad though that you quit a year before you broke Dad's record," he then joked with Junior, referencing his father Bill Elliott's 16 MPD wins. "… I'm pretty happy about that. We got it back in the right name."
Elliott's crowning on Thursday is likely the first of many MPD awards for the 23-year-old driver, as his career with Hendrick Motorsports is just beginning. He broke through for his first Monster Energy Series win this season at Watkins Glen International, following it up with a pair of playoff wins after that at Dover International Speedway and Kansas Speedway.
"At the end of the day, the votes are awesome, people taking their time to pull for us throughout the year," Elliott said. "I feel like the biggest thing that I noticed that was really recognizable is just how fired up people about us, wanting my team to do good this year … and seeing all the hats and T-shirts and things. Those are the things that really hit home with me. Seeing it at track and seeing it live and in person. …"