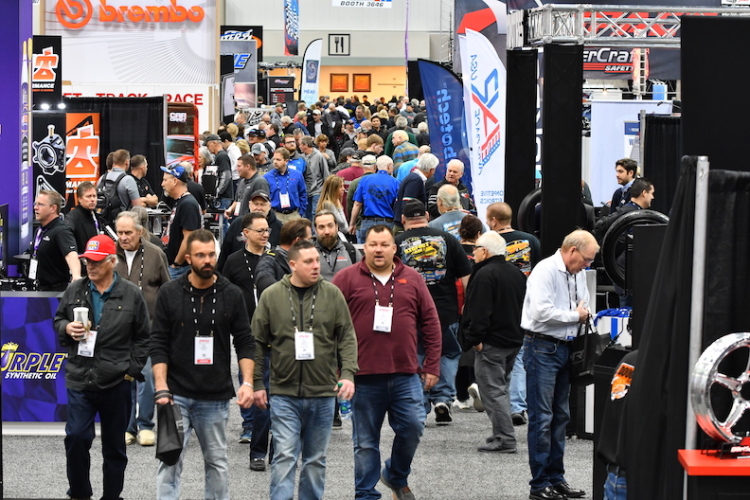 PRI Show Opens To Blockbuster Crowds; EPARTRADE Is A Big Hit On Opening Day
Tens of thousands of motorsports professionals streamed into the Indiana Convention Center and Lucas Oil Stadiumin Indianapolis this week for the 31st annual Performance Racing Industry (PRI) Trade Show.
EPARTRADE is one of the Show's exhibitors, located in Booth 7199. "We had a fantastic opening day at the PRI Show," said Francisque Savinien, co-founder of EPARTRADE. "It is great to catch up with our industry friends, and tell the EPARTRADE story in person. We may be the newest company in the building, but the word is spreading fast about the value of SmartSourcing racing products within the EPARTRADE online business communitiy for racers."
"We had a lot of visitors to the EPARTRADE booth who said they had to stop by to get more information on our new digital platform for the racing industry," said Judy Kean, co-founder of EPARTRADE. "It's a new approach, so it takes some investment of attention, but when people 'get it,' they tell us that this is clearly the direction the racing industry must go."
"People are having a great trade show experiernce at PRI," said Chris Thompson, EPARTRADE sales director. "The exciting news is that EPARTRADE offers a trade show experience all 52 weeks of the year. It's a very attractive concept for everyone here."
A Grand Opening Breakfast featuring motorsports legends Al Unser Sr. and Al Unser Jr. energized an audience of 3000-plus that filled the Convention Center's Sagamore Ballroom for the Show's traditional kick-off.
Attendees had access to more than 1100 top motorsports product manufacturers and service providers showcasing the latest developments in auto racing technology. The 2018 PRI Show features more than 3,300 booths and tens of thousands of buyers from all 50 states and 70 countries focused on enhancing their operations for the 2019 season.
Popular Show attractions for 2018 include the new Trailers Exhibit Area at Lucas Oil Stadium, Machinery Row, and the Featured Products Showcase, where more than 600 of the industry's newest and most innovative products are on display throughout the Show.
EPARTRADE is offering seminars on its digital platform for the racing industry at the PRI Show in room 236, at 11 am, Friday and Saturday.