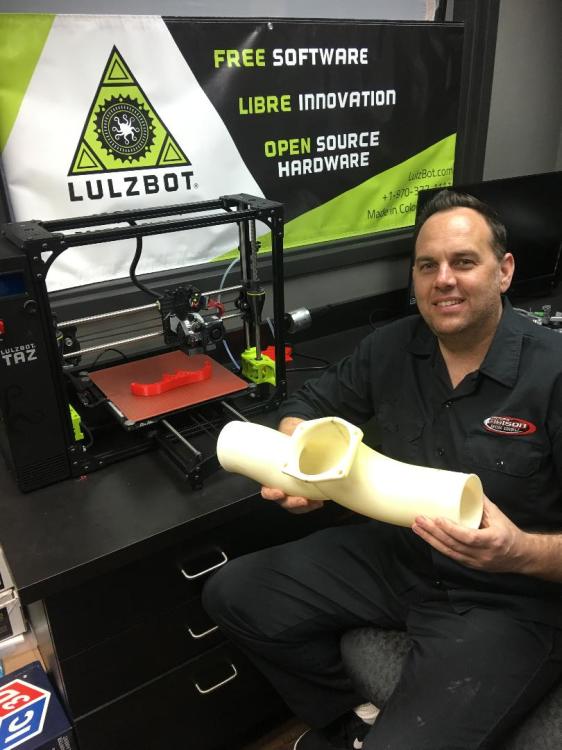 EPARTRADE Special: How 3D Printing Helps Keep Nelson Racing Engines On A Fast Track
Known for its massive twin-turbo engines, Nelson Racing Engines (NRE) also does full builds of jaw-dropping supercars such as the F-Bomb Camaro featured in Hot Rod Magazine, and the 2000hp Maximus Charger that starred in "Furious 7." The full-service Chatsworth, California, machine shop describes its creations as having "race car power with street car manners."


A life-long hot rod enthusiast, Tom Nelson opened the business in 1995 and has been passionate about building dreams and horsepower ever since. Well aware of the competitive pace of the industry, he has taken full advantage of the new technology that has revolutionized motorsports over the past two decades. Just as fast as its cars is the shop's R&D, thanks to the use of 3D printing, which Nelson adopted in 2007.


"I look at all of this like the Wild West," he told us. "CAD/CAM programs like SOLIDWORKS have pretty much changed the architecture of what we're able to do with a small investment. Once you start designing things in CAD, and then have an avenue to actually print those ideas in a low-cost manner, versus machining them out of billet, it opens up a whole new world. You can easily check fitments and have the actual part in your hand to evaluate rather than just seeing it in a program."


Pointing to 3D-printed turbo housings that can be used to mock up turbo systems, Nelson said the technique is ideal for refining and perfecting prototypes that will ultimately be produced in aluminum. "We just printed an entire intake manifold for a part that we're about to cast and were able to look at it in 3D.


"Something else we're delving into right now is 3D printing sand cores," he said. "When you're going to make a casting, you can actually print the core and make a prototype for way cheaper than actually tooling the core. That's still relatively new, but it's going to be a game-changer."


The shop's two Lulzbot 3D printers also allow them to create inexpensive dies that can be used to stamp out limited-production parts with a Pullmax machine.


Perhaps most useful is the ability to produce parts from carbon fiber filament that can go directly onto a car, including gauge clusters, center consoles, switches, knobs, grilles, and more.


Of the ability to produce quick custom pieces like spark plug wire bulkhead fittings, Nelson said the job can be completed in about 20 minutes, versus a day of carving the same component out of billet. "It's a perfect natural piece that will work for the lifetime of the vehicle," he said. "It pays for itself almost in the first use, and has saved us thousands of dollars," he noted.


Since NRE already had an experienced CAD/CAM technician on-staff, Nelson said there was essentially no learning curve involved in using the printers. "You take it out of the box, it's self-leveling, and you just put your program in and push the button. If you have programs, anybody in the shop can run it. It's really almost that easy. And the machines are extremely durable. It's kind of like a toaster," he laughed.


Depending on the complexity of a part, the machine may run as much as 30 or 40 hours. "That's the crazy thing," said Nelson. "You load the program and then you go home. When you come back, there's a little 'presto' part in there."


There is a wide variety of printing media (filament) available, offering different strengths and degrees of hardness and flexibility, which can require a bit of experimenting to find the best one for the job at hand. While filament runs somewhere between $40 and $70 a spool, Nelson said it's "pretty low-cost in the grand scheme of things."


How far a spool will go depends, of course, on the size and thickness of the part being printed. "For example, the other day we only used half a spool to make two air cleaner conduits, and those are big pieces...about nine inches tall and 4.5 inches round."


NRE's larger machine offers a 12x12 footprint, and Nelson's desire right now is to go even larger. "The 12x12 lets us do a lot, and you can also produce a part in two pieces and glue them together, he noted. "In our shop, we build interiors, so with a bigger footprint we could do reverse molds and then pull carbon fiber parts out of them for door panels, dashes, even body kits. So that's our next step."


While 3D printing has sped up development time substantially, to this point NRE has not used any printed internal engine parts. But that day is coming. "They are doing metal printing now, and they're already getting like 85 percent strength. There is a company that is doing Inconel and stainless merge collectors, exhaust manifolds, and a ton of other stuff. My buddy works at HPD and they're using a lot of metal printing in the Honda race cars."


Currently, that capability is a little out of NRE's price range. "It's a big cost for those machines right now, but when that becomes more affordable, the whole ball game is going to change," Nelson predicted. "They're 3D-printing houses right now with cement; they're 3D-printing all sorts of things. I think the automotive world is going to have a huge shift in what technologies are going to do for us."