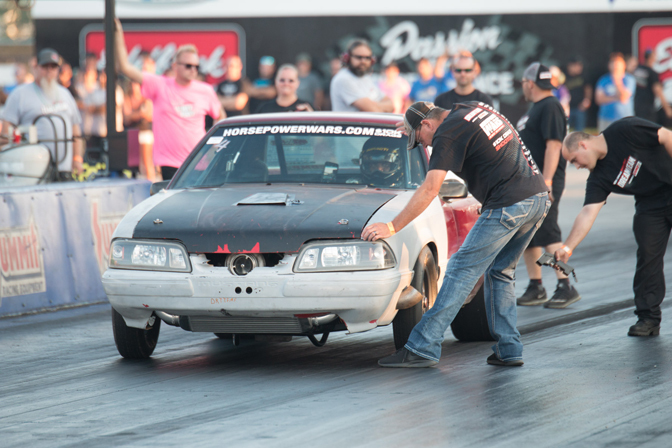 Deadline to Apply For COMP Cams Dream Team In Horsepower Wars Shootout Is March 22
While team applications are closed for the 2019 Horsepower Wars $10K Drag Shootout, it is time to start the application process for the COMP Cams Dream Team. Applications are due March 22.
Here are the details:
Overview of Shootout: Teams will compete against each other to see who can build the quickest drag racing car ("Vehicle") over a period of 10 days, with a budget of $10,000 — which will consist of $3,000 in cash and a $7,000 Summit Racing Equipment Gift Card. Each Team ("Team") will consist of six people: One (1) Team leader ("Team Leader"), and five (5) crew ("Crew") members. Among the Team of six (6) people, one driver ("Driver") must be pre-identified. Team Leader shall be the original Applicant for the Competition; and will lead the Team and be the final decision maker for all decisions during the Competition. During the Competition, there will be surprise bonuses, competitions, and challenges that can assist, or hurt, the chances of each Team's ability to build their vehicle and win.
Prizes: The winning Team will win their vehicle and shall be awarded $10,000 in cash, payable at the conclusion of the 2019 Duck X Productions No Mercy Race in Valdosta, Georgia.
Build Location & Details: The 10-day build period is May 8 – May 18, 2019 in Riverside, California. All Team members must be present by 1:00 pm on May 7, 2019 for orientation. Teams will work May 8-May 11, 2019 (including Saturday). Teams will get Sunday May 12, 2019 off, and will resume building on May 13, 2019. All team members must stay in California through, May 19, from 8:00 am through 3:00 pm for final wrap up, filming, interviews. Teams will be released at 3:00 pm on May 19.
Build Details: Each Team will have ten (10) days to build their vehicle in accordance with the Rules of the Shootout. The entire build will be done by each Team in Riverside, CA. Each Team will be provided a lift, and access to basic tools, equipment (including welding equipment), and shall have access to a chassis dyno in the Facility. After the ten day build process, each vehicle will be impounded prior to the race portion of the competition. The studio will be closed to the public and the public will NOT be permitted to observe the builds and/or filming at the facility.
How to Apply
The $10K Drag Shootout 2 "Dream Team" is sponsored by COMP Cams.
COMP stepped up as the lead sponsor of the fourth HORSEPOWER WARS team called the Dream Team which will be comprised of 5 individuals.
COMP will be giving $2,000 to each member of the Dream team to help offset travel, hotel and food expenses, plus COMP's team will be there as team captain(s) to help coordinate all the logistics and team work.
COMP and Horsepower Wars are looking for five of the best people to enter the $10K Shootout competition:

Driver
Engine Builder
Driveline (Transmission/Rear End)
Fabricator
Mechanic/Tuner

You must apply for a primary and a backup positions. MUST LIST/RANK THEM as part of your application.
COMP Cams and Horsepower Wars staff will work together to narrow down the list to the top choices per position. A soon to be announced expert panel of drag racing experts will help determine the final picks.
If your team win(s), the Driver will take home the car, and the $10,000 cash will be split among the other 4 members of the crew.