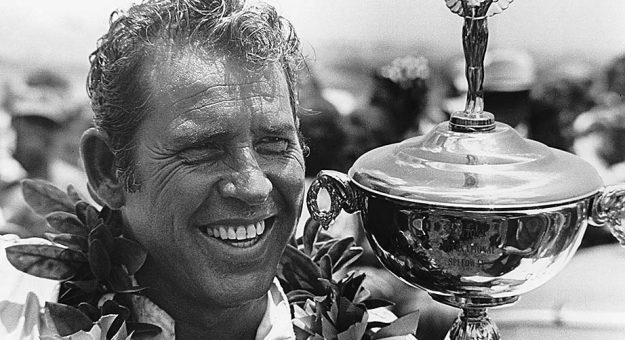 NASCAR Great David Pearson Passes Away at 83
NASCAR great David Pearson, a three-time champion in NASCAR's premier series, and widely regarded as one of the sport's finest drivers, died Monday. The NASCAR Hall of Fame inductee was 83.
Nicknamed "The Silver Fox," Pearson won 105 races in NASCAR's top division, placing him second only to Richard Petty's 200 victories on the all-time list. However, Pearson never competed in a full season and his win total came in 574 starts — less than half of Petty's 1,184.
In a Sports Illustrated poll in 1999, a panel of 40 longtime experts in the sport voted Pearson as the magazine's NASCAR Driver of the Century. The 1976 Daytona 500 winner was named one of the sport's 50 Greatest Drivers during NASCAR's 50th anniversary season in 1998.
"David Pearson's 105 NASCAR premier series victories and his classic rivalry in the 1960s and '70s with Richard Petty helped set the stage for NASCAR's transformation into a mainstream sport with national appeal," NASCAR Chairman and CEO Jim France said in a statement. "When he retired, he had three championships — and millions of fans. Richard Petty called him the greatest driver he ever raced against. We were lucky to be able to call him one of our champions. The man they called the 'Silver Fox' was the gold standard for NASCAR excellence.


"On behalf of the France Family and everyone at NASCAR, I want to offer sincere condolences to the family and friends of David Pearson, a true giant of our sport."
Born David Gene Pearson on Dec. 22, 1934, near his longtime hometown of Spartanburg, South Carolina, his first racing experience came in the Palmetto State's thriving dirt-track circles. Pearson said he bought his first car at age 17. His progress on his home state's bullrings soon caught the eyes of several car owners, moving him up the ranks to big-league stock-car racing.
Pearson's career in NASCAR's premier series began in 1960. Though he ran just half of the 44 races, he netted the first of his 113 career pole positions and was named Rookie of the Year.
Pearson's career arc accelerated in 1961, when he teamed with master crew chief Ray Fox for three victories — two at Charlotte, one at Daytona — in his second season. His first victory came in spectacular fashion in just the second-ever World 600 — now the Coca-Cola 600 at Charlotte Motor Speedway. Bearing down on the white flag, his John Masoni-owned No. 3 Pontiac blew a right-rear tire. Pearson limped home with sparks flying from the wheel rim for the final lap and a half to take the checkered flag and the lucrative $29,450 purse.
From there, Pearson drove for a succession of powerhouse teams with Hall of Fame credentials — Cotton Owens, Holman-Moody and the Wood Brothers. He also raced for Hall of Famer Bud Moore in Mustangs prepared for the Trans Am Series in its glory years.
"I'm just a plain ol' country boy, what you want to call it," Pearson said as he was introduced for his NASCAR Hall induction. "That's the way I was raised and brought up to be. Racing has been good to me and I owe everything I got to racing."
Lee Holman, the son of team co-founder John Holman, told NASCAR.com in 2014: "With Pearson, they used to say with about four laps to go, he'd throw his cigarette out the window and you'd better hold on, because the race was about to happen."
Pearson will forever be linked with Petty, a seven-time champion and one of his biggest rivals. Throughout the 1970s, their car numbers — 21 for Pearson and 43 for Petty — were often atop the scoring pylon. The two drivers finished 1-2 in the premier series 63 times, with Pearson winning 33.
Petty told ESPN's Ed Hinton in 2009: "Pearson could beat you on a short track, he could beat you on a superspeedway, he could beat you on a road course, he could beat you on a dirt track. It didn't hurt as bad to lose to Pearson as it did to some of the others, because I knew how good he was."
"I have always been asked who my toughest competitor in my career was," Petty said in a statement hours after Pearson's death was announced. "The answer has always been David Pearson. David and I raced together throughout our careers and battled each other for wins — most of the time finishing first or second to each other. It wasn't a rivalry, but more mutual respect. David is a Hall of Fame driver who made me better. He pushed me just as much as I pushed him on the track. We both became better for it.
"We have always been close to the Pearson family because they were in the racing business, just like us. We stayed close, and I enjoyed visits to see David when going through South Carolina. We will miss those trips. Our thoughts and prayers are with the entire Pearson family and friends."