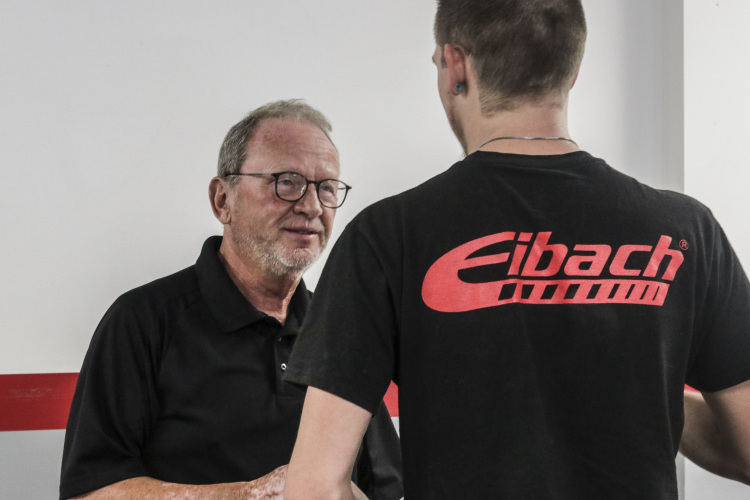 Catch Up With The Extraordinary Wilfried Eibach In EPARTRADE's Interview Series With Racing Industry Executives
For those who have been watching the American racing industry for the past three decades, the rise of
Eibach
to an iconic company in performance racing circles has been fairly spectacular to witness. First, the parts are solid, and the Eibach product lines keep up with ever-advancing demands of racing applications. There's been serious engineering going on over the decades, and Eibach technical standards have never wavered. Secondly, there is the grace, good humor, generosity of spirit and enthusiastic friendliness of Wilfried Eibach, who took over the company after his father died in 1967. It seems sometimes that Wilfried never appears to be conducting business, but rather, making friend after friend. Third, if you step back a bit, and watch Eibach's company make its marketing and organizational moves, there's brilliance here. This is a company that tends to get there first, or pretty close to first, as new opportunities arise in the performance racing industry. If you're the type who has successful racing industry entrepreneurs as heroes, you have to consider Wilfried Eibach for your list. Enjoy EPARTRADE's five-question interview of Wilfried Eibach, chairman of the Eibach Group.
Tell us your story of how you got started in the racing business?
"My father established Eibach in a small shed in Germany in 1951. As he was sick early, I was the only son, and had to join and help from 1959 on.
"We were 3 people in total, and made only springs for industrial applications. My father passed away in 1967, and soon we were approached by fledging German motorsport teams to make suspension springs for them. We were growing with these Spec Springs, but nothing was available from stock, they were all Spec made.
"We began to change that in the early 1980s with our first, tiny list of standardized Race Springs. The world famous ERS—Eibach Race Springs—were born. Today, it's a huge program of about 1,600 part-numbers, with the uncountable combinations of different Main- and Tender-Springs, allowing multiple thousands of different race setups, all from stock, and available worldwide.
What is the most exciting thing to you about the motorsports industry today?
"I established Eibach in California in 1986, and I soon became one of the biggest fans of the many and different facets of the American motorsport industry, from the Long Beach GP to the King of the Hammers, from Supercross to the famous Off-Road Races (my longtime favorite, the Baja 1000), and NASCAR and sportscar racing...and everywhere, you are meeting the most friendly and supportive people!
"Nowhere else have I found so many and loyal good friends. Over all these decades, we were lucky to create a network of friends, which is why some call us 'millionaires'—friendship millionaires!
"We do not want to disappoint friends, therefore we have to strive for the best and most reliable race springs. Period.
What motivates you daily in your job?
"The daily chance to experience the adventure of new challenges and also still be seen as an inspiration and backbone of a fantastic and talented Team of 600 colleagues today.
"And to share the fulfillment of doing a superior job with every single one of them.
What recent new technology or advancements in racing excite you most?
"The fast growing move to E-Mobility, with positive anticipation...nevertheless, with a tear in my eyes. Fortunately, superior suspension will be needed as before.
What should everybody in the racing industry know about your company?
"First of all, we are Eibach; we are family; every single one of us is family.
"We want to be the best. This is the pride and the dedication in us, and the obligation towards our customers.
"We want the Industry to expect the best from us.
"We do not only understand springs, as we also engineer stabilizers and shocks. We understand how these three music instruments have to be fine-tuned to play a harmonious symphony.
"And that Eibach Springs is proudly made in America, with a 'German accent' (using some German Technology)."