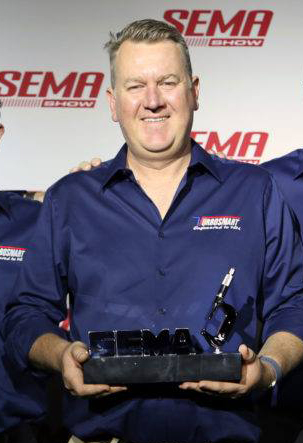 EPARTRADE Executive Interview: Insights From Turbosmart's Nicholas Cooper
Turbosmart is the kind of international racing company that brings products to market that make you think first of performance, rather than country of origin. Truly international, the brand appears at home at the PRI Trade Show in Indy (Booth 347) or the Autosport Show in the UK, and elsewhere around the globe. In fact, Turbosmart won six awards at SEMA 2018 for its Gen-V Wastegate. Here's a chance to get some personal history and industry perspectives from this brilliant Australian company and its CEO and founder Nicholas Cooper.
Tell us your story of how you got started in racing?
Well I don't race unfortunately. I started this hobby hoping I would get into racing, however, Turbosmart has kept me focused on making cool things.
Anyway, to answer your question, I love engines, especially turbocharged engines, if you haven't noticed.
As a kid I would always pull things apart to see how things worked, and attempt to put them back together to see if they still worked...many times ending up with leftover parts for some reason. Eventually getting into cars, I was given a turbocharged engine for my 21st birthday, and then it started. My fascination with turbocharging began.
What is the most exciting thing to you about the motorsports industry today?
The most exciting thing to me today would have to be the engine technology and how far we have come in 20 years. I mean, 20 years is a long time to some, however, a blink of an eye for me. Having too much fun. You only have to look at the horsepower we have in our daily drivers. Back then, 300hp was considered a big deal, and usually limited to super cars. Now, we see that kind of power in your Grandma's shopping cart.
What motivates you daily in your job?
I've got to say, after the lead-up to the SEMA Show, having endured 12 months of tension with a team that produces some amazing products, and then we get to the SEMA Show and we win the prestigious SEMA award, along with several Global Media Awards, nothing motivates me more than that.
What recent new technology or advancements in racing excite you most?
There are many amazing technologies, especially in the development of new products. Our R&D department now has some of the best tools available, giving us the ability to make anything we can dream up. The technology that has been revolutionary for me is 3D printing in metal. This allows us to develop some designs so much faster than we have ever been able to do in the past.
What should everybody in the racing industry know about your company?
We are made up of a team of enthusiasts, manufacturing in-house, with the sole purpose to put a smile on your face when our products and team help you achieve what you expect from a Turbosmart product. Oh, and we make the best turbocharger-related products on the planet.